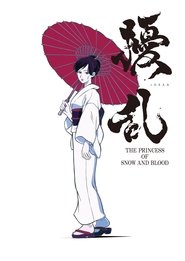 Joran The Princess of Snow and Blood
Anno 1931. Il principe Tokugawa Yoshinobu ha 94 anni e detiene il controllo assoluto del Giappone.
I resti della cultura dell'era Meiji sono visibili in tutte le città, ma anche la tecnologia scientifica e l'Onmyodo, la cosmologia esoterica, continuano il loro sviluppo, trasudando un senso di modernità. Eppure dietro lo sfarzo si nascondono i Kuchinawa, un gruppo dissidente che pianifica l'assassinio del principe e, di fatto, la caduta del regime.
Il compito di eliminare questi dissidenti è assegnato ai Nue, il gruppo dei carnefici segreti del governo. Sawa Yukimura, che lavora per questa organizzazione, ha sofferto fin dalla tenera età per mano del capo dei Kuchinawa. Tutta la sua famiglia è stata assassinata e lei ha deciso di dedicare la sua vita alla vendetta.